Rachel Odabasi: A curiosity brought her to Varsity Girls Tennis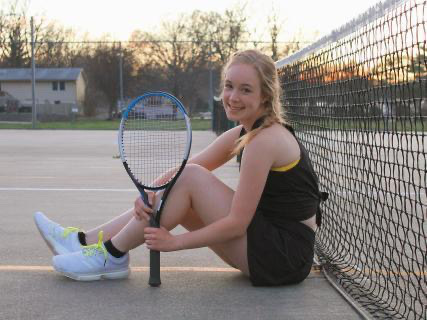 Lincoln Southeast (LSE) senior Rachel Odabasi's tennis story began her freshman year after pure curiosity in the sport prompted her to try out.  She was an athlete at the time who was simply looking for another sport to join. Four years later, Odabasi is on the girls' varsity team. 
Odabasi believes that the best thing about tennis is the relief that it brings to have her mind off of anything that may be stressful. Along with playing tennis, Odabasi is a busy student trying to get her work done along with being a member of LSE's band. 
"For me, the best thing about tennis is the opportunity to take a break from school and my other activities and just have fun on the courts. I don't have to think about homework or what music I need to practice for band, I just need to focus on how I'm playing," Odabasi said. 
Including Odabasi, there are eleven team members on the varsity team. She enjoys the company that her teammates bring, along with listening to their experiences playing the sport. 
"The best thing about being on a team that shares the same passion for tennis is learning about everyone's experiences," Odabasi said. "We all have different tennis experiences, and I really enjoy hearing stories from my teammates about previous matches and crazy opponents they've played in the past." 
Most people have had to start somewhere in order to improve their skill on a hobby, sport or anything else. For Odabasi and many others, being a good player takes a lot of work and practice. Though it may seem frustrating to spend great amounts of time to improve, Odabasi's first year playing tennis holds her best memory. 
"My all-time favorite [memory] comes from my freshman year. I was on the reserve team and was playing a singles match. The girls on the bench for the other team were cheering when I made mistakes, rather than when their teammate made a good play," Odabasi said.
Throughout that match, the other team continued to cheer on her mistakes. As a way to put a stop to their comments, her coach took action and added a memorable part to that experience. 
"My coach at the time, Sig Garnett, noticed and went over [to the other team] and sat right in the middle of their bench. The next time I made a mistake and they started clapping, he told them, 'See, now you don't cheer for that.' He talked to them for the rest of the [tennis] match, and by the end, they were so mad," Odabasi said. "I thought it was hilarious." 
The varsity tennis team began its season on March 29 and will have state competition on May 20 and May 21 of this year. Even though there's still a bit of the season left to go, Odabasi feels confident in her team. 
"It's a new year, and we have a new team that has so many strengths," Odabasi said. "We started this season strong, and there's nowhere to go but up from here."