LSE Tampon Drive aims to raise awareness, donate to People's City Mission
LSE's Feminist Club is hosting the Tampon Drive this week. From April 4 – 8, students and staff can donate money or any menstrual products, such as boxes of tampons, pads or menstrual cups. The donations, which can be dropped off in donation bags located in LSE classrooms, will go to The People's City Mission.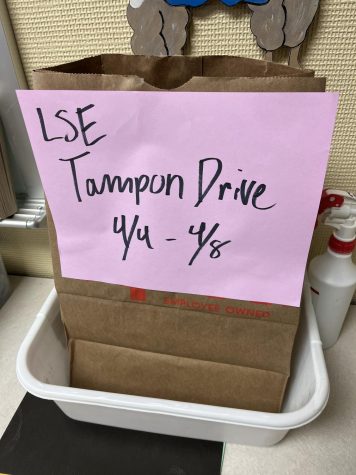 The Tampon Drive has the potential to help girls and women in need. According to the charity organization Days For Girls, nearly 500 million of  those who menstruate are experiencing period poverty around the world. The term "period poverty" describes the absence of resources and insufficient access to menstrual hygiene products. These products have an additional sales tax meaning they are not considered exempt as non-luxury necessities. Advocates against the pink tax want to address this issue and limit the increased prices on products that are marketed towards women. This is also what the LSE Feminist Club is trying to accomplish.
In 2016, the Tampon Drive was created out of hope, and a want to help those in need of these necessary hygiene products. 
"The club members at the time were passionate about giving back to the community and desired to make a difference, primarily for women in the greater Lincoln area," Feminist Club Sponsor Madison Hilbert said. 
The previous sponsor, Sara Danielson, found that the People's City Mission would be an accommodating source to send the donations to. This organization lends a helping hand to anyone experiencing crisis. Whether it's the loss of a home, or a victim escaping a situation of abuse, The People's City Mission will be there to provide housing, food and hygiene products to whoever is in need. Many of the items provided are also through donations, which is where the Feminist Club does what they can to enhance their level of aid.
Last year, LSE raised 438 dollars, with the help of a 300 dollar Walmart donation. This year, the club hopes to exceed this amount and bring in as many donations as possible. 
Nobody in a time of crisis should have to struggle to acquire these necessary menstrual hygiene products based on accessibility or price. This is your sign to donate to the LSE tampon drive in order to help those in need.