Senior athletes commit to future schools during Senior Signing Day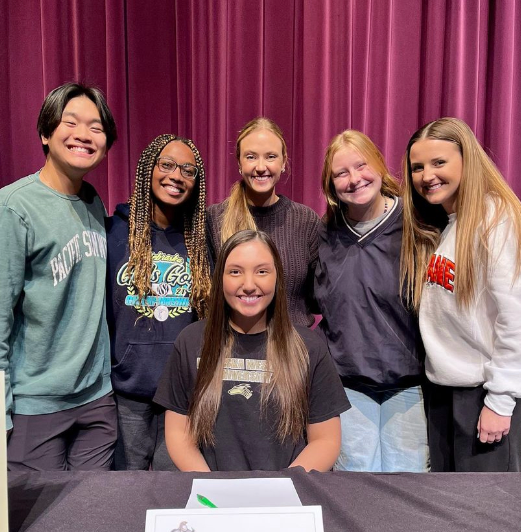 Lincoln Southeast High School (LSE) hosted two senior signing days on Feb. 2 and April 13.in the Jennifer L. Dorsey-Howley Performing Arts Center. 
Emily Schmid (12) signed one with  Nebraska Wesleyan University (NWU) for both swimming and cheering. 
"I made my decision to go to NWU because I watched my older sister and saw how much fun she had playing for the NWU team to swim and cheer," Schmid said. "It approximately took 2 months to make my decisions. 
She knew she was leaning more towards NWU since her junior year, but was open to other options such as University of Nebraska Lincoln (UNL).
Schmid says that Senior Signing Day is super important because it gets the senior class excited and it also helps them realize that they're headed into the next chapter of their life. 
"I got [a lot of] support from family and friends as they watched me sign," she said. 
Schmid says she is proud of her decision to commit to a sport as it shows her dedication.