Abbey Hardin's love for music continues to grow as she moves around the country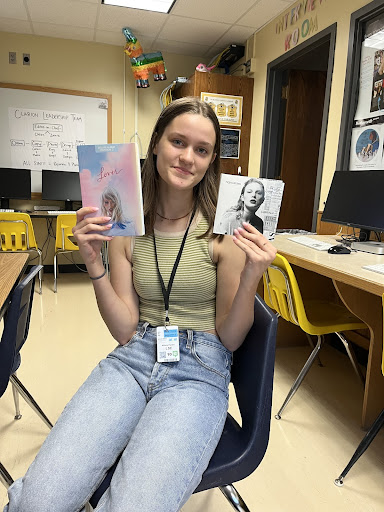 This school year, the Clarion has gained a lot of new members as well as all of the returning staff from last semester. It has been exciting to brainstorm new ideas for the Clarion this school year in addition to meeting the new staff writers. Abbey Hardin, a sophomore at Lincoln Southeast High School, shared facts about her life of moving around the country due to her father's occupation at a country club. From being born in Houston, living in multiple cities of Arkansas, running into celebrities at Whole Foods, and ending up here in Lincoln, NE, she has had quite a busy life.
Hardin has had to adjust to many new schools, and the struggle was something she had to face when she started at one of the many schools she attended, Meigs Academics. The requirements for enrolling at this school were very prestigious, and high academic scores are needed to join. This academic success has also been part of her experience at Southeast with joining AP World History this year, along with  AP Human Geography as a freshman.
Something that has remained consistent in Hardin's life is her love for music. High school has given her opportunities to tend to this enjoyment such as joining theater, choir and even playing the ukulele outside of school. Living in Nashville was also a promoter of the music scene, especially Hardin's love for the popular country-turned-pop star Taylor Swift. She was even able to see her in concert when she was younger.
"I have liked Taylor Swift since I was little, so it was really cool to see her in concert," Hardin said. 
She especially enjoyed it when Swift brought another famous country singer, Tim McGraw, onto stage with her. Her love for the music artist is so strong she even said that if she were to hug any celebrity it would be Taylor Swift, no doubt. She also mentioned the fact that she and her parents would see country singers, Keith Urban for example, at Whole Foods.
Hardin's journey in the Clarion is just beginning. This, along with her love for music, will continue to grow during her time at Lincoln Southeast High School, and the staff is more than excited to get to know about her and the other new members.