Southeast announced their designation as a Special Olympics Banner School at Homecoming Pep Rally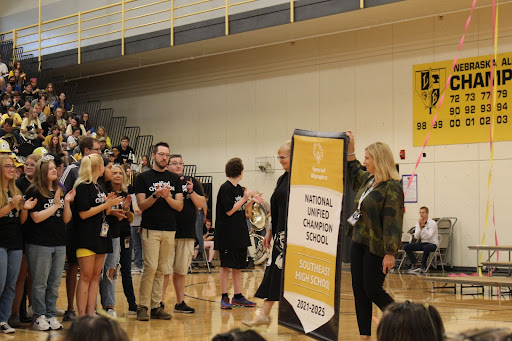 On Sept. 21, LSE celebrated the fact that the school was awarded the title of Special Olympics Unified Champion School (also known as Banner School) at the Homecoming Pep Rally. The school was officially named a Banner School on Sept. 12, and they Lincoln Southwest in being the first two schools in LPS to be awarded the title. Becoming a Banner School is the highest level of distinction of inclusivity from the Special Olympics. 
According to Heather Leader, the Department Chair for Physical Education and Health department and teacher at LSE, a Banner School "embodies 10 different characteristics." The ten characteristics mentioned by Leader encompass four main areas; Special Olympics unified sports; inclusive youth leadership; whole-school engagement; and sustainability. This year, LSE has finally been recognized for meeting all of the criteria.
A large team of people at LSE, including staff and students such as Heather Leader, Krista Ackerman, Sara Freist, Julie Krueger, Heidi Moore, Autumn Wardyn, Drew Soukup, Ashlynn Medberry and more, realized last year that LSE was already meeting a lot of the criteria to be a Banner School, such as having at least two seasons with a Unified Sport and having Unified Classes. So they pushed to implement the last few criteria into LSE and apply. 
One of the main events that LSE has that made many people realize LSE should become a banner school is a program called Community of Learners, which meets monthly in the Media Center. 
Sara Freist, The Librarian at LSE, spoke on her favorite part of LSE, Community of Learners, she said "[It's] always my favorite day of the month." 
Community of Learners is a collaboration between LSE's student council and LSE's Special Education department. Where once a month they get together, play games, hang out and socialize with each other. This year Community of Learners has become a club that is open to anyone who wants to participate.
LSE becoming a Banner School holds a lot of significance for many people. It is a huge milestone and achievement for the school. Krista Ackerman, a teacher at and a part of the special education department at LSE, described the way LSE became a Banner School made her feel as "This is a weird way to describe it, but almost like kind of warm because I feel like it makes all students accepted here."  
LSE Librarian Sara Freist shared why LSE becoming a Banner school meant so much to her. Freist has an older brother who has Aspergers, a very high functioning form of Autism. Growing up, her brother would often ask her how to make friends.
"It was something he wanted, so desperately. But he sort of lacked understanding of social cues. And so he just always felt like he was on the outside but he really wanted to fit in."
Freist seeing her brother's experience made things like Community of Learners and LSE's title of Banner School much more meaningful.
"I think it [LSE's title of a Banner School] provides a sense of community for all of our students, a sense of belonging, and because I've kind of seen what it can look like on the other side. It just means so much more." 
Becoming a Banner School is monumental for LSE, and, according to Leader, is just another step in spreading the word of being an inclusive environment. "You know, we're gonna get a banner to hang in our gym, we're gonna get recognized on the national website," Leader said. "We're gonna get recognized throughout the city. But I think it just gives us more leverage to start creating more things, and really showing how important inclusion is in our society."
At the Homecoming Pep Rally on Sept. 21., alumni that had been involved in LSE becoming a Banner School were invited back, a video that displayed what went into getting this title was shown and the CEO of Special Olympics Nebraska, Carolyn Chamberlin, gave a speech to congratulate LSE on this status. 
LSE becoming a Banner School is a fantastic achievement and a big step forward for the school. Many people have worked very hard for this title and everything that it means. It also means so much to so many people and is something to be proud of for all Southeast students.