The Podcast Craze
A list of a few popular podcasts that are worth a listen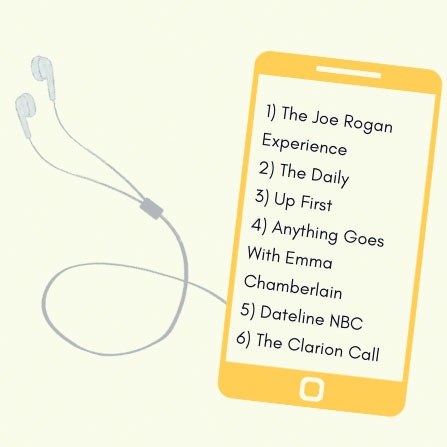 Podcasts have increased in popularity over the past few years due to their increased accessibility on platforms such as Spotify and Apple Music, the wider variety of podcasts that are being produced and the way that you can just listen to them whenever. However, it can be hard to find a good podcast to listen to, especially when some (*cough, cough* The Joe Rogan Experience) are upwards of two hours long. Below is a guide to some of the most popular podcasts in many different categories. Enjoy!
The Joe Rogan Experience 
This controversial, comedic podcast features comedian Joe Rogan and a new guest in almost every episode. Although its arrival on the streaming platform Spotify caused upheaval and resulted in artists such as Neil Young and Jodi Mitchell removiing their music from Spotify, no one can deny that Joe has a fan base. It's currently #1 on Spotify's podcast charts, with over 500 thousand reviews and approaching 2000 episodes. If you're looking for some humor (though it might not be for everyone) and conversations about life and current events, you're in the right place. 
The Daily
Want to know what the heck is going on in the news without having to read? This New York Times podcast releases daily episodes going in depth with big stories of the day, such as former president Donald Trump announcing his campaign in 2024 or the whole Elon Musk/Twitter ordeal. The Daily has been nominated for the Peabody Award for Radio/Podcast and has 4.8 stars on Spotify. 
Up First 
If you're looking for a shorter summary of the news, this podcast might be a better fit for you. NPR's short and sweet daily podcast gives you an overview of the "three biggest stories of the day, with reporting and analysis from NPR News– in 10 minutes," according to their summary paragraph. A great way to start your day, or catch up on what happened yesterday.
Anything Goes with Emma Chamberlain 
Anything Goes with Emma Chamberlain: Most people know who Emma Chamberlain is, either from YouTube, Instagram or from Time magazine's "25 Most Influential People on the Internet." As Spotify says, "Emma talks at length about whatever is on her mind every week. . . sometimes philosophy, sometimes a random story from 10 years ago, sometimes advice, and sometimes nothing at all." These episodes usually last around 45 minutes and are great to listen to while on a walk or just laying in bed. With a whopping 4.9 stars, Anything Goes is the way to go. 
Dateline NBC
For those of us who love true crime, Dateline NBC outlines mysteries ranging from petty crime to murder. The transition music and cliffhanger cut-offs will have you on the edge of your seat as host Keith Merrison details the story in around an hour. And for some extra fun, NBC also has extra series such as "The Thing About Pam" which go more into depth with cases outlined in the Dateline podcast. 
The Clarion Call 
If you haven't heard of the Clarion Call, what's going on? The LSE newspaper's hot podcast is hosted by our very own podcast team. Evan Merrell, Layla Riley, Molly Leyden and Georgia Wood take us on journeys with relatable content and featuring people at LSE. They add in extra spice such as trivia segments between the Daves and the Sarahs on the LSE staff, students letting their rants out and even music recommendations. Listen to this five-star (it's just one review, but still!) podcast on Spotify or Anchor FM. Broadcast Editor Evan Merrell says, "I think that people should listen to the Clarion Call because we have a bit of everything in there. I think teachers would enjoy listening to their co-workers struggle with trivial questions; I think students can find a new song to listen to or hear their friends' response to Layla's questions. . . No matter your purpose I think Southeast Knights can relate to what they hear and enjoy a conversation they don't get to hear all the time."