Eleven Weeks Early
Chris Salem's Daughters Fight for Survival
On Dec. 7, 2022, Chris Salem's wife Ella's water broke in her 23rd week of pregnancy.
"She spent all of December, and the holidays away from our family in the hospital just hoping to hold on to the pregnancy for as long as possible," Salem said.
Salem's daughter Petunia Frances Salem was born 11 weeks early on Jan. 14.
"She was immediately admitted to the NICU at Bryan East Hospital. She was being treated for low birth weight and underdeveloped lungs among other things.  She was on a respirator to help with her breathing from her first moments," Salem said. 
After Petunia was born it was just about for Salem seeing his daughter fight for survival everyday. 
¨Due to her prematurity, her pulmonary system was not fully developed and she would stop breathing (apnea) every 30-60 minutes for her first six weeks or so of life,¨ Salem said. ¨During these 'events' she would need to be manually revived with tactile simulation from either myself, my wife or a nurse.¨
Furthermore, it was very scary for Salem as Petunia would turn gray as oxygen would leave her bloodstream. 
One of the most difficult thing for Salem was being away from his wife and for his children to be away from their mom. 
¨The hard part before the birth was not knowing if our daughter would survive the birth and if she did, what types of issues she would be facing.  We still don't know what challenges will be with her in the future due to her extreme prematurity,¨ Salem said. 
Nevertheless, his family banded together and got through it with lots of prayer and faith.
¨[Through] prayer and meditation [we] tried to keep everything as 'normal as possible' for the kids. [We tried] just staying focused on the next thing rather than the big picture,¨ Salem said.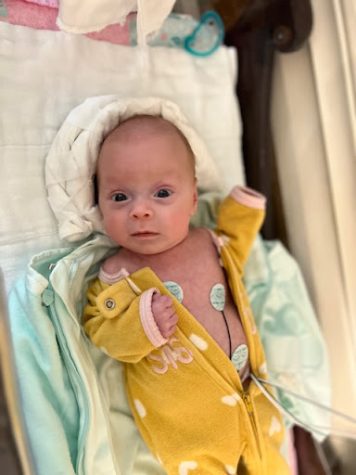 When it came to his work life, what really helped him was all the support around him.
¨I had a lot of help from my social studies team as I was constantly running back and forth to and from the hospital….they have been lifesavers,¨ Salem said. 
After Petunia was born due to her prematurity she would oftenstop breathing this was scary for Salem as she would turn gray as oxygen left her bloodstream.
However Petunia has stayed strong and has made great advancements. 
¨She continued to progress, pass brain scans, eye exams and cross off very scary possibilities from her list, such as cerebral palsy and blindness and other long term respiratory diseases,¨ Salem said.
Despite all the challenges Petunia has overcome a lot of odds and currently is miraculously really healthy being almost six lbs. She can now eat and breath on her own. 
She is perfectly healthy, just still a bit tiny and still working on her apnea which only occurs a few times a day at this point and not severe,¨ Salem said.