According to a school-wide survey about what students are planning to do this Halloween, 40% of students are going to Halloween parties and 16% are trick-or-treating, but the other 44% are most likely staying home. If you happen to be staying home and you're also part of the 80% who enjoy scary movies, you might as well watch one of these picks I've reviewed below.
LSE FAVORITE: Scream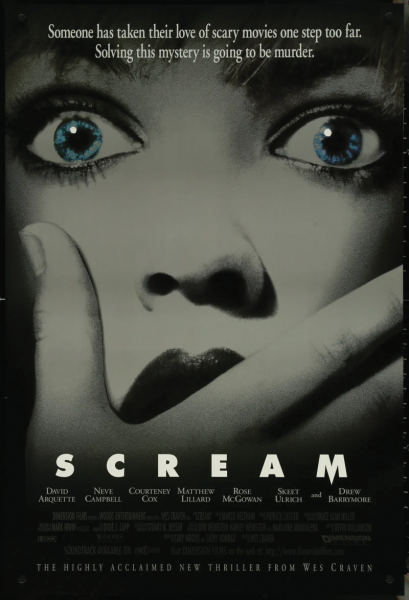 (1996)
R – 81% Tomatometer
Per the survey, not only was "Scream" the students' favorite horror movie overall, but it's also LSE English teacher Autumn Wardyn's. This film shows how a teenage girl named Sidney (played by Neve Campbell) goes about trying to survive in a small town with a killer on the loose. As the death count grows, she finds herself and her peers increasingly more involved in the mystery. "Scream" may feel like your typical thriller at first, but the longer you watch, the more director Wes Craven plays with classic slasher tropes. Because of this interesting selling point and charming cast, it gained attention from the masses and grossed $173 million USD, which is huge for the horror genre.
I hadn't seen "Scream" until this year and I wish I'd seen it sooner. One of my favorite parts is how Craven uses practical aspects, such as sound design and timing, to cleverly tie everything together. For example, audio from another classic horror movie, Halloween (1978), plays in the background of an intense scene, which seems trivial but actually goes along with what's happening on screen. While the movie puts a lot of energy into subverting expectations, there are still corny moments that almost every horror movie has, which feels a bit like a hug. I definitely recommend you watch "Scream" this October with your friends and family.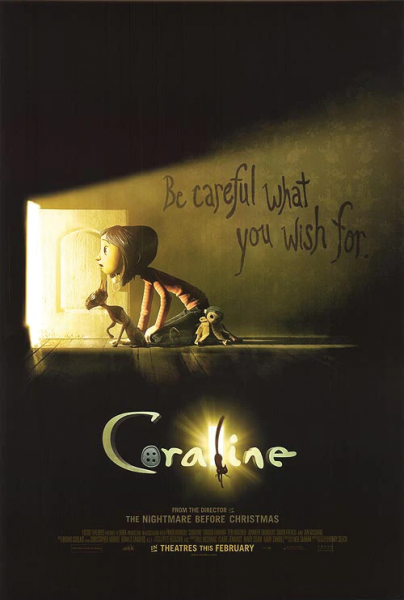 FAMILY FRIENDLY: Coraline (2009)
PG – 90% Tomatometer
Coraline (voiced by Dakota Fanning) is a curious girl who is unhappy with her neglectful living situation. Her parents don't seem to care about her, she has moved away from her friends and everything is boring. However, one day she magically finds herself in the life she wants with a loving mother (voiced by Teri Hatcher), but it isn't long until the truth about what "Coraline" has gotten into reveals itself. The movie is completely done in whimsical stop motion animation and was marketed for children, although it has gained a cult following among teens and young adults over the years.
I watched Coraline often as a kid and had many nightmares about it. I still find it deeply unsettling to this day, most likely because of how Coraline is separated from her parents and trapped in an isolated world. The best element of this movie is, without a doubt,the animation and art direction. Sherice Lockman, a junior at LSE, claimed in the survey that this was the best scary movie of all time: "I like the small attention to detail they put into the movie. I've always loved the music and the beauty of the animation, as well as the aesthetic overall."
The director, Henry Selick, is known for this unique and spooky style, which can be noted in his other works, such as "The Nightmare Before Christmas" and "James and the Giant Peach". If you have any siblings or family that might not be old enough for other movies on this list, "Coraline" is a great option.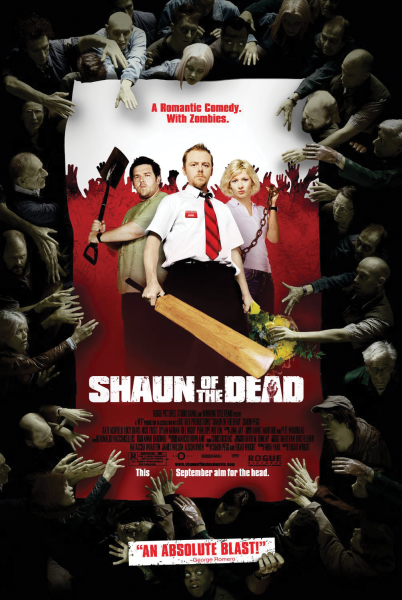 COMEDY: Shaun of the Dead (2004)
R – 92% Tomatometer
In "Shaun of the Dead", viewers follow Shaun (played by Simon Pegg), an unmotivated and childish man entering his 30s. Though there isn't much going on in his life, he still can't seem to manage it properly. When a zombie apocalypse breaks out after a pathetic breakup, he takes it upon himself to save his ex-girlfriend and mother with the help of his burden of a friend, Ed (played by Nick Frost). This movie is a comedy that uses absurd gore as one big joke while still giving you an uneasy feeling at times.
The cast is the shining star throughout the whole film, consisting of notable British comedic actors that work with director Edgar Wright's zany style perfectly. Something that stuck out to me was the fantastic transitions used by Wright that makes "Shaun of the Dead's" pacing feel incredibly breezy and quick, which is something that many other horror movies fail to do. While it's endlessly fun, that unfortunately means that the scary stuff takes a back seat. To some, this lack of fright may be a minus, but the zombies are still perfectly suitable for a Halloween flick.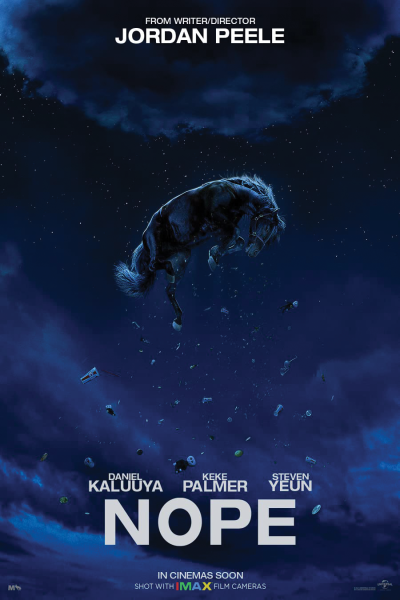 SCI-FI: Nope (2022)
R – 83% Tomatometer
Jordan Peele has already established himself to be outstanding at what he does since the release of his first movie "Get Out" in 2017. So far, he has had a fantastic streak of hits, with "Nope" being the latest. The movie is about a pair of struggling siblings who discover an extraterrestrial entity which hunts from the skies of California. What started as an attempt to become alien-finding legends with the help of quirky strangers, soon turns into a life or death situation. "Nope" seems to be a little bit of every genre. It's a sci-fi western, but every 20 minutes or so it hits you with the most disturbing scene possible.
Daniel Kaluuya and Keke Palmer deliver some of the most impressive performances I've seen in modern horror (along with Toni Collet in "Hereditary"). Steven Yeun and Micheal Wincott both deliver very chilling monologues that tie the themes of the movie together perfectly.
The acting in this movie is fantastic all around and the casting choices were undoubtedly on point. For me, however, the best part is the audio. It doesn't matter how many times I rewatch, I will always be utterly mesmerized by both the sound design and score. In a particularly unsettling scene, the sound directors somehow manage to make loud thumps, balloons popping, and creaking floorboards feel like chilling silence. In another, an uncanny rendition of "Sunglasses At Night" by Corey Hart booms and echoes into the atmosphere while characters narrowly escape death. I could go on and on about Nope, but I just can't say much without giving everything away, so I highly suggest everyone reading this article gives it a try.