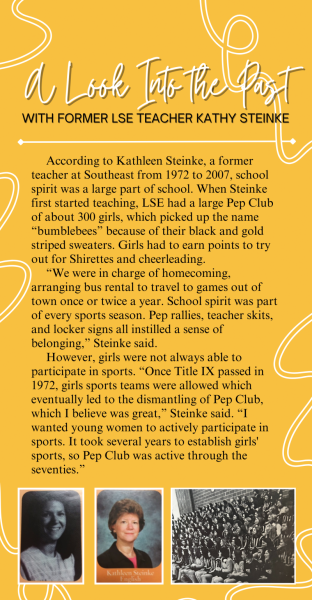 As students walk down the halls of Lincoln Southeast High School (LSE), they see many emblems, such as the knight mascot and the shield, that have represented the school since its starting years. However, most students don't know much about how the school acquired the mascots and traditions that are carried on today.
Although LSE was built in 1955, the history of high school education in this area of Lincoln goes all the way back to 1894. At that time, secondary education was provided in the southeastern part of Lincoln by College View High School, which operated from 1894 to 1955. When it became clear that a bigger school was needed for all of the students seeking education in that part of Lincoln, LSE was built, and opened on Sept. 22, 1955, under the leadership of Principal Hazel. G. Scott.
The idea for the knight mascot came from John Gradwohl, who graduated in 1980, and was chosen for its strength and bravery. Gradwohl did research on armor, stage costumes and medieval garb, and during the summer of 1979, the school purchased a suit of plastic gold stage armor. The mascot has changed throughout the years and has become a familiar sight around the school, such as the knight mascot in the cafeteria or in one of the stairwells that connects F and D halls.
A big part of the school is the shield, which was designed in 1955, and is now the official emblem of the school. Out of ten shields submitted by the student body that year, Rich Garlinghouse, John Koenig and Tom Laging designed and submitted the winning design in a contest to find an emblem for the school. The shield has three parts: a knight's helmet at the top, a scroll beneath and the shield itself in between, divided into four sections. The upper left and lower right sections show the letters "S" and "E" to represent the name of LSE. The upper right section houses six owls, which represent the six classes when LSE first started and was Southeast Junior-Senior High School. The lower left has a sword representing the power, strength and unity of the knight.
Another feature in LSE is the mural in the cafeteria. The mural was created by Reinhold Marxhausen and was officially dedicated on Feb. 11, 1976. In Marxhausen's words, "When you are a student in high school and have teachers, take courses and get involved in activities which at the time seem useless and even dumb…you are trusting, filling yourself up to the potential you will someday utilize."
The following poem was written by Marxhausen about the piece:
The progression of shapes, colors, textures
Evolve and change
Darkness is the unknown, untried, the future
Where fear can be the master
But darkness is also the color of hope and trust
Investment of seeds or knowledge are covered
With self or soil
And waiting begins
What good can come of misfits and
Misshapen lives
Like shriveled up pea seeds thrown into dirt
Who knows, now
With hope must be sweat and care
Swearing and tenderness
Tearing and shaping
Work
Turning
Changing
But our plans are not our plans
Interruptions, disaster, death
And all unexpected mysteries
Shape us also
And we live
Faith can give strength
And clean, and renew
And redirect
All preconceptions
With celebrations and fulfillment
Fling out new seeds to others
For new horizons to begin
In hope
And trust
R.P. Marxhausen, 1976