When Natalie Wardlow rotates to the front row on the volleyball court, the crowd takes an anticipatory breath, then cheers their excitement. Everyone, including the opposing team, knows that Wardlow is about to become an almost impenetrable block against incoming hits.
The 6-foot-5-inch middle blocker is a force to be reckoned with, which has been noticed by not only fans and opponents, but also by college recruiters.
In fact, Wardlow, who is only a junior, has already been recruited by the University of Wisconsin-Madison, which is UNL's biggest rival in the Big Ten Conference.
During Wardlow's games, many colleges came to watch her play. Some even offered her a spot on their team. But Wisconsin, who has been watching her for the last two years, was the first Top Ten school that reached out.
Wardlow said she has gone to all of Wisconsin's volleyball camps during the summers and it just felt like the right fit for her. When she committed to Wisconsin at first, she thought she was dreaming and it felt unreal.
"Honestly, it was like a relief because I've worked so hard to get where I am. Realizing all of the work I put into this, especially the hard practices and bad days, were all worth it,"  Wardlow said
Wisconsin was not a difficult choice for her. According to Wardlow, since Wisconsin had been watching her for a long time, she was their number one prospect to be recruited.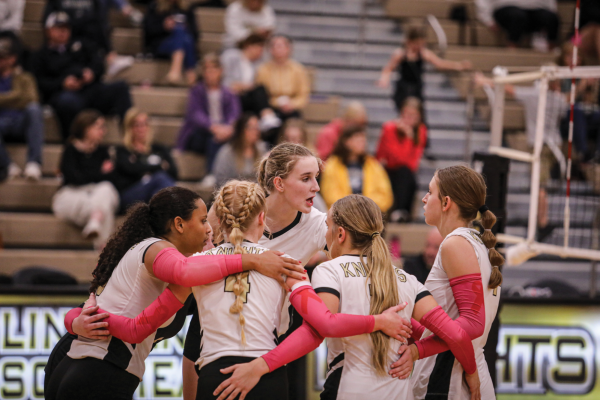 Wardlow has also watched Wisconsin play for years and admires how good the program is and how the players interact with each other.
Wardlow's first visit to Wisconsin was on Sept. 1, 2023. She toured campus and went through her day as if she were already a student there. She was able to watch film with the team and attended practice.
She had an opportunity to meet her future teammates, which would be the class of 2025, and even recognized some of them from playing against each other in clubs. She met players such as Madison Quest (an outside hitter) and Addy Horner (right side/setter).
Wardlow also met Head Coach Kelly Sheffield, the Middle Blocker Coach Gary White and the Assistant Coach Brittany Dildine.
Wardlow said she absolutely loved Coach Sheffield, who has great relationships with the athletes and is open to talking through family issues or offering support when a player misses home.
"I love Kelly because, not only is he a great coach, but he is like a fatherly figure to everyone. If you need anything, he will always try to help," Wardlow said. Bringing up the other coaches, Wardlow adds, "Britney and Gary are good coaches, too, because Britney is very competitive and will push you like she knows the best for you and Gary is a very sweet guy."
Wardlow communicates with the coaches about things she needs to work on before going to Wisconsin after her senior year. She has a 7 a.m weight training class to get stronger, is focusing on blocking and preparing for the faster tempo of college volleyball.
Wardlow's commitment to improving and her hard work are things that she, and her team, are proud of.
"Honestly, last year I would never have expected myself to be where I am today. If you put your mind into it then anything is possible,"Wardlow said.
Knowing she has a long way to go, Wardlow sets higher goals and standards for herself so she can go pro after college. She believes that Wisconsin is the right place to get her to that level and fulfill her dream.