At the beginning of the school year, students desperate to pad their resumes and college applications search for new extracurriculars. It may be too late to join a new sport or club and take too much time to join some other activities, but the Speech and Debate teams at Southeast offer students low-commitment ways to participate in a school activity, learn about topics they're interested in and join a community of people who share their interests.
The Debate team began their season with a successful introduction meeting on Sept. 27, allowing new students to learn about debate and experienced students to share their knowledge. The team is coached by LSE English and Debate teacher Colten White and assistant coaches.
While the tournament season does not begin until November (and runs through March), the team begins to research topics and form arguments far ahead of time. The long season enables students to work at their own pace, take on a manageable workload, and join the team late if necessary.
Commitment to the team involves both attendance
at two after-school practices per week and some 2-3 tournaments per month.
Senior and successful debater Hudson Witte was introduced to the activity through a debate class he took his freshman year.
"Taking that class was the best decision I've ever made," Witte said.
Witte also joined the team late in the season. After deciding that he didn't want to continue participating in football, he began to look for activities he could join. The Debate season had already begun but was welcoming to late-comers.
Participation in Debate is impressive to colleges and is a way for students to enhance their public speaking abilities, along with other important skills that can be utilized throughout a student's adult life.
"I know people going to law school that have said debate was a huge component of them doing well and getting prepared," White said.
Some skills developed as a result of Debate may include researching, finding effective information, time management, and working with a team. Students also benefit from spending time with people who share their interests and getting to know new people, while participating in an event that caters to their ability to manage time.
Like Debate, the Speech team can accommodate students who choose to join through the end of the semester. It is also entirely student-driven, meaning that students decide how much time to dedicate to their event and are allowed freedom to work on their own schedules.
The Speech team hosts a meeting every Monday after school until 3:40. Students also select a time to practice their events with coaches during the week at a time of their choosing. Speech tournaments begin in November and run through March, in which students are allowed to choose 7-12 tournaments to participate in.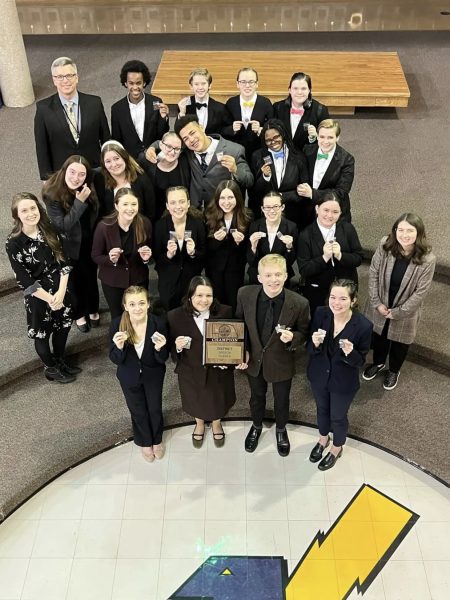 To participate in Speech, students select from a variety of events and develop their piece during the entire length of the season.
"It's a great way to become involved in your community without flooding yourself with commitments,"  LSE senior and Speech team captain Mia Jensen said.
Participating in the team also allows students to connect with people who share their same interests.
"We have some football players, swimmers, singers, theater people […] it gives you a very broad range of people you get to meet," Jensen said.
While students may be from considerably different backgrounds, their enthusiasm for the team connects them. Participation in these environments on both teams encourages the development of students' abilities in terms of social and academic potential.
Because they accept new students through the end of the semester, participation is a great way for students to get involved in something they may never have thought about doing before. The flexible, self-set pace also allows students to participate even though they may be occupied with classes, jobs, and other school activities.
Students in Speech and Debate are also encouraged to meet new people, not just on the Southeast teams but from other schools as well. Tournaments at schools in and out of state allow the team members time to be introduced to people they may not have met under different circumstances.
"[Speech has] given me a really nice community of people who are super welcoming and kind. It's been a good experience," Jensen said.
Students interested in joining Debate should contact Mr. White and students interested in joining speech should contact coach Tommy Bender.