More than an induction: The story of southeast's athletic hall of fame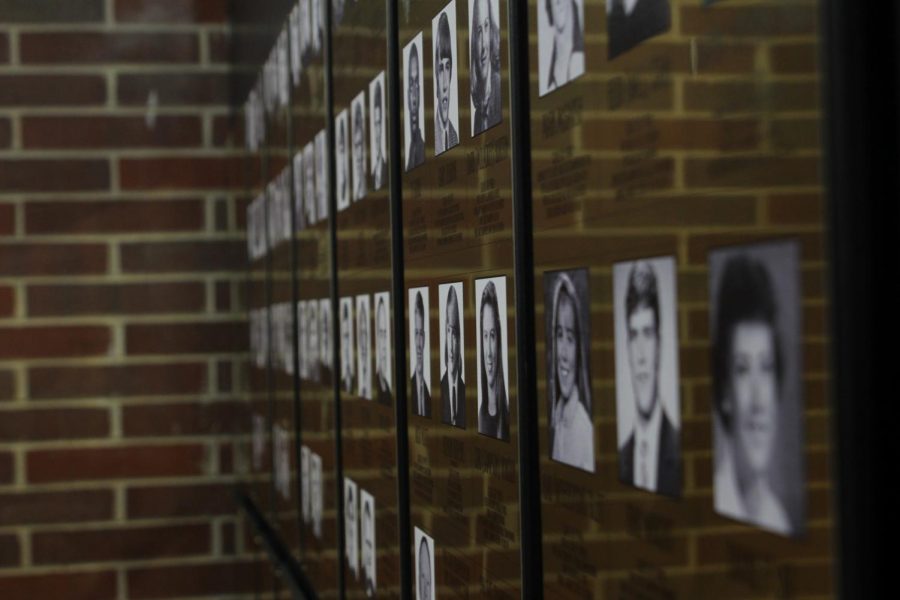 Avae' Muir, Staff Writer
March 24, 2018
The smell of hotdogs wrapped in buns, nachos dripping with cheese and Valentino's pizza in perfect triangle boxes drifts through the air in the hallway outside of Prasch Gymnasium. The sounds of children begging for candy and band kids tuning their instruments all reverberate off of the brick walls. At the end of the long hallway stands the school's silver sentry and mascot – a knight and his horse.
To the right and left of the concessions stand is the Athletic Hall of Fame which includes plaques of  amazing athletes during their time at LSE. The pictures have watched generations of students walk through LSE. It provides athletic history and recognizes successful athletes that attended Southeast.
The Athletic Hall of Fame was created in 2010 by the athletic director at the time, Larry Munksgaard. A lot of other teachers, coaches, and student alumni who were involved in athletics helped Munksgaard with making the Athletic Hall of Fame and supported his ideas. It's purpose is to recognize the student athletes, coaches, teams, community members, contributors, and students to reinforce our tradition of excellence at LSE.
"It's motivation for those of us who are here at Southeast and a good way historically to tell the successes of individuals who came through the halls of Southeast High School and what they did during their time here," said Athletic Director J.J. Toczek."
In order to be on the Athletic Hall of Fame you must be nominated, meet certain requirements, and pass through two committees. Athletes must be 25 years out of high school and coaches or contributors must be 65 years old or retired from their position, in order to be inducted.
Once nominees have been selected for the Athletic Hall of Fame, inductees attend a ceremony, held every year either in the month of January or February. Food and a video is shared to feature the inductees' time at Southeast. It provides a way for the members and new inductees to think back and reminisce on their time at school. The day after the banquet, on a Friday night, during the halftime of the boys' basketball game, all the inductees are recognized in front of Southeast students, families, and teachers with a video of the inductees giving advice to inspire those watching. The inductees wear the medal they received when they got inducted the night before and the athletic director reads a little bit about each inductee. This is a way for former LSE students to connect with current students and the Lincoln community.
Talking about how the induction dinner provides a cool way for inductees to reflect on their athletic accomplishments at LSE, Principal Toalson said,"[The induction ceremony is a] really nice production. There's videos of people talking about their memories and they also like coming back for the basketball game and to get recognized in front of students and fans."
Current staff and Athletic Hall of Fame Member, Kara Graham, vividly remembers the experience of the induction ceremony, with family and friends even traveling across the country to be at her induction ceremony.
"I was so thankful to have all the people there that were also present during my high school years during all the success and failures. They were in full support once again. It was also awesome to get a chance to mingle with former athletes and coaches from LSE that I had not seen in a long time," said Graham.
Graham also still remembers feeling humbled and surprised when she found out she would be inducted."I instantly thought of people from the past who I believed deserved it more than I did. I love this school and it's tradition in athletics is unmatched. So to be in a group with all of those great players, I was truly humbled and I still am."
Toalson always looks forward to the basketball game where the inductees are honored. He remembers when professional baseball player Alex Gordon, who Toalson said brought inspiration to many students.
"I think it can inspire a whole new group of kids coming through at the banquet. We had some Southeast students, current students, that were there [at the Friday basketball game] and they go to hear these messages from these former Southeast Knights about how much being on a team here matters, how important their coaches were, and all these life lessons," said Toalson.
Toczek agrees with Toalson saying that he thinks that the Athletic Hall of Fame is a great way to motivate students.
"I think it's great for student athletes that are here at Southeast and their families who came before them.  I think it's also a celebration of all the things that have happened here at Lincoln Southeast High School," said Toczek.
Graham inspires current students to strive for the Athletic Hall of Fame by saying, "I hope it's something that they reach for and want to accomplish because it's a good tradition."
Everybody on the Athletic Hall of Fame has a unique story and come from all walks of life. Each of them have different success in life and made numerous mistakes but learned so much from each one of them. So the next time you walk by the Athletic Hall of Fame remember how much they have contributed to the school and strive for that level of excellence for yourself.