Johnna Graff receives Mike Troester Educator Award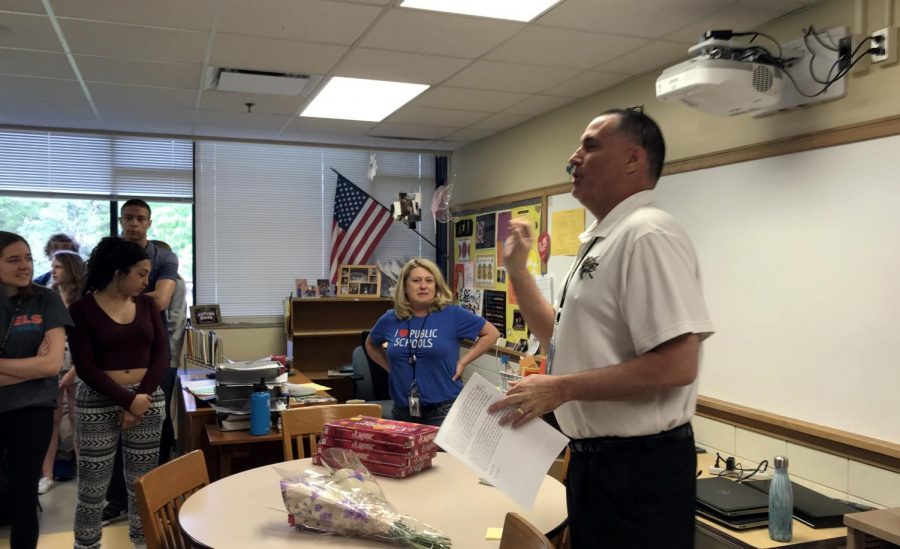 Eric Vander Woude, Photography Editor
May 14, 2018
Everyone has a favorite teacher, the one that goes the extra mile, puts up with your complaining about having to do homework, and in the end, makes you a more knowledgeable student. When a teacher goes beyond what their job description says and starts improving the school's environment, that's when amazing things start to happen.
Former Southeast Social Studies teacher Mike Troester was a perfect example of going beyond what your job description states. Unfortunately, in the early 90's he died from cancer, but as a lasting remembrance of his positive effect on the school, the Mike Troester Educator Award was created. Each year one teacher from Southeast is nominated to receive the award, but before that they must fulfill the following requirements of the award:
Lifetime commitment to teaching

Fair treatment of all students

Approachable and kind to all students

Encourages students to "go the extra mile"

Use of outside resources and new approaches to old material in the classroom

Encourages both veteran teachers and new staff

True educator, sharing his/her abilities with faculty and students
This year the award went to English teacher Johnna Graff, who was recommended by fellow English teacher Tim Tidball. When asked about why he thought Graff was an appropriate candidate he said, "There is not a descriptor on the list that does not describe Ms. Graff." He also says that she does an excellent job at "encouraging students to go the extra mile" year after year.
The best part of the award is that it's not just a one time thing, once you are chosen by the committee you become a committee member and get to help choose the next recipient. Math teacher Sherry West won the award in 2014 and says she was honored to be recognized amongst the other great teachers who have won the award. "To be thought of as a teacher of the same caliber as them is quite humbling and gratifying."
The nominations are open once a year for about two weeks, so if you ever have a teacher that you think deserves a little extra credit for what they do, write a recommendation and send it to the Lincoln Southeast office, 2930 S. 37th Street, Lincoln, NE 68506.