Right Hooked Art Company: Promoting the Next Generation's Artists
Hang on for a minute...we're trying to find some more stories you might like.
Senior Payton Becwar sits in a crowded gym classroom, no less than an inch away from her neighbors after she finishes a research worksheet on exercise equipment. She reaches into her bag and trades the worksheet for some art materials and a large piece of paper. She spends a little while deciding what to draw next and says, "My mom always comes to me and says 'I would buy something from you if it wasn't so weird.'"
Yes, Becwar sells her art, something that many high school artists could only dream of doing. Becwar started her own art business called Right Hooked Art Company this summer with senior Sarah al-Hilfy-Leon and junior Harrison Hebb. Becwar brought Hebb on first, but decided that they needed someone who focuses on something other than art, so they brought on al-Hilfy-Leon, who is well versed in photography.
"[I founded Right Hooked because] I just wanted to get money because I love to draw in my free time, so I had all this art stuff and I was like 'what do I do with it, I don't want this in my house.' It was a great project to do, but it's spent a few months just sitting here, so I thought why not make some prints of it and maybe someone would like it. I've always wanted to be a business major and an art major, so might as well get a head start."
Becwar founded Right Hooked and decided to connect it to school through the Business of Art Distribution club. Becwar also founded the club this year. The club meets on club days and on Fridays after-school. Its goal is to teach artists techniques on how to promote, advertise and sell art of all shapes like paintings, photos, music and more. Her intentions in founding Right Hooked are noble.
"There's not a local business promoting art regarding teens or people my age. So I thought might as well make an outlet because I hang in the art crowd, so I thought all my friends are really good at art and they should be able to promote and sell their projects like writing, art, that kind of stuff. It can be photography and painting, music, prints of art, stickers and pins. It'd be so cool to have their art in someone else's house."
All art is available on their website, righthookedartco.com, with prices ranging from $2 all the way up to $75. The website sells art from a few different artists, Becwar being one of them. The "sellers", as Becwar and Hebb refer to them, can price their art on the website, so long as it's not an unreasonable amount like $500 or $1,000. Right Hooked gets 10% of every sale made on the website. All art sold on the site goes through a board made up of Becwar, Hebb and al-Hilfy-Leon.
"We have an application on our website where you would submit sort of a portfolio on yourself, and just write a bit on who you are and who you want to be as an artist in the business. After that we gather submissions and get back to the artists or applicants for any other spots like future models for any clothing or bloggers for our upcoming blog section," Hebb said.
Some people might think that having art on the site has some catches besides the 10% but it doesn't. It doesn't even have to match the aesthetic of the website.
"It would be nice if it did, but it's kind of like when you pass a bill through [Congress]. It goes through the three of us and it's an X-Factor type thing," Becwar said. "I don't accept anything that's recycled, like if someone drew a portrait of their cat. I want this to be really authentic and really real. I don't accept anything copying other famous artists. I look for authenticity."
Not only are they are constantly looking for new artists, but have many positions yet to be filled. Applications for positions are available on the website.
"You can be a blogger, or an artist, or model fashion, but nothing super regal or super big. You don't have to be an artist to do the club or the business. We also promote people's music, so if you make music, we can advertise it on the site too," said Becwar.
The site actually got its name because of a joke Soundcloud song that Becwar created for a satire project in AP Language/Composition called "My Mom Has A Killer Right Hook." From the unique name to the niche aesthetic, everything about the Right Hooked website is aimed at the younger generation. The site has a modern feel with lots of colors you wouldn't expect to go together, something akin to a classier version of the Space Jam website.
"The older audience is not going to buy some abstract surrealistic art, so I was like well, I got to make this with the colors I like and just kind of the modern style that I like. It's nothing really in particular. I love the black mixed with neon kind of colors and making it bright and stand out," Becwar said .
Becwar and her crew try to update the website at least once a week with a lot of new art to continuously keep the site fresh and new.
"I leave most of the website updating to Payton, but if we're having any sort of events in the future I'll be more in charge of setting things up. She usually just adds the art pieces on the website as she gets more submissions from the artists, as well as our club artists," said Hebb.
Hebb hopes that the business will go on for a few more years until he gets out of high school, but if it goes on longer he would be happy. Becwar took a different approach.
"I'm an optimist but also a realist so it's hard, but I see it lasting, well, I hope it lasts forever, but that's my dream. We've put so much work into it, if it failed I'd probably be heartbroken. I feel like my generation would [keep buying that generation's art style], so I hope it lasts forever, but we'll see what happens."
As long as Right Hooked goes on, Becwar knows that it was founded for a reason – to be a platform for emerging artists, musicians, photographers, and the like – and hopes that anyone who wants to get involved will.
"Art isn't just for people who are skilled or have that knack for anything that 'art' can be. Art can be defined as whatever you love to do. That's your art. Anything that you have to put on the table or anything that you believe is your asset or your thing, then go ahead, join our business. Join our club. I don't care if you think you're not talented, just come on down. I'll find a spot for you. You'll fit in and that's my goal. I just want everyone to have a place because I always thought I never fit in, but I do!"
About the Writer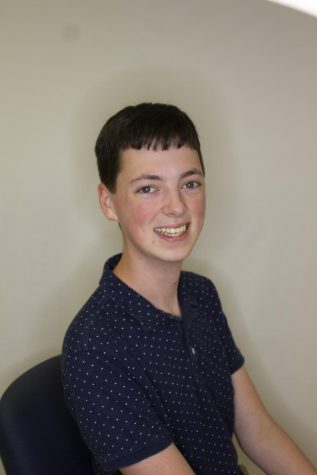 Seth Householder, Co-Editor-in-Chief
Seth Householder is a senior at Lincoln Southeast High School in Lincoln, NE and is Co-Editor-in-Chief of the Clarion News Team. He loves writing, directing,...