Government Shutdown: Longest in US history
Hang on for a minute...we're trying to find some more stories you might like.
On Saturday, Jan. 12, 2019, the current government shutdown became the longest in history, topping the shutdown during the Clinton administration in 1995 with its 21 days. The shutdown still has no end in sight, now 27 days in and counting. For the majority of students at Southeast, the shutdown may not seem like a big deal, but for some students – it has stopped their family's income flow.
When a president shuts down the government, the reason is usually to negotiate budgets for the upcoming year. President Trump's most notable campaign promise was the U.S.-Mexican border wall preventing immigrants from entering the country. Originally stated by the President, Mexico was to pay for that wall. Now, a bipartisan deal is being negotiated on the budget and the future of that wall, which President Trump wants $5.7 billion taxpayer dollars to fund.
On Jan. 12, President Trump tweeted, "….I do have a plan on the Shutdown. But to understand that plan you would have to understand the fact that I won the election, and I promised safety and security for the American people. Part of that promise was a Wall at the Southern Border. Elections have consequences!"
This wasn't the only tweet about the border wall – in fact, ever since the shutdown, Trump has been calling for in-office Democrats to 'meet him in his office' and end the shutdown, while the reality is that a bipartisan deal will most likely be the only feasible end result. Because of this, a continuation of talk about political-polarization of the two sides has become more broadcasted. How will elected officials meet that deal?
In a press conference on Thursday, Jan. 17, Nancy Pelosi (D), Speaker of the House and a spotlight figure during the shutdown, said the furloughed workers are not being appreciated by the administration. "These workers make a difference in the lives of the American people."
Pelosi is talking about the 800,000 current furloughed government workers not receiving their pay from the government. This has caused about $2.2 billion in lost consumer spending, and that alone is starting to impact the economy more than people are realizing (MSNBC). If the shutdown continues, it is likely that the economy will go into recession.
Pelosi has also broadcast her concerns for safety, as Homeland Security is one of the Federal programs that is suffering due to the shutdown. "We're not paying people who keep us safe – including TSA agents, who stop bombs from coming onto planes," said Pelosi. "Or FBI agents who track terrorists and immigration officials who patrol the border."
As far as the root cause for the shutdown goes, a poll on MSNBC was conducted with a control group of just over 1,000 people. 54% of people said Trump was to blame for the shutdown, 31% said Democrats in Congress were to blame, and 5% said Republicans in Congress.
Trump's approval rating has taken a plummet over the shutdown. Over 62% of independents polled that he secured in the 2016 election now plan to vote against him in 2020. He is the first president to have never made it over a 50% approval rating during his tenure in office.
While Democrats solidly oppose the wall, some of their counterparts in the Republican party are looking for alternative ways to pay for its construction and support Trump's request for $5.7 billion to build a new barrier.
Mississippi Congressman Steven Palazzo (R), whose proposed solution to funding the wall includes having American citizens purchase revenue bonds from the U.S. Treasury, blames the shutdown on the Democrats.
"This shutdown stems from Democrats refusing to put the lives of our own citizens first," Palazzo said via Twitter. "Your inaction is risking our national and homeland security."
The problem with this is that each side keeps blaming each other — Democrats blame Republicans for wanting the wall, and Republicans blame Democrats for not letting them build that wall, even with the promise from President Trump.
While those 800,000 furloughed workers are directly feeling the impact of the shutdown, Lincoln Public Schools and its programs have not yet been affected.
"We have not seen any impact from the shutdown at LSE – on the school, staff or on students who participate in various school programs," said Principal Brent Toalson. "I checked with administrators at the district office in our Federal Programs department and our Nutrition department. They are not aware of any impacts either."
Although LPS is making it through the shutdown, many people in the Lincoln community – including LSE students and staff – are struggling.
Eric Holt, an English teacher at Southeast, works for a community organization called Feed The People. This organization works on providing anything from food to hygiene products to clothes for people in need, no questions asked. Because of the shutdown, Holt noted how Feed The People has been preparing for when said shutdown starts affecting people's food stamps — the funding ends in February– so they're preparing for a bigger influx of people on their food distribution days. As someone seemingly unaffected, he wants to be able to provide.
"People in the organization pay $10 a month, we also fundraise, and so that funds our monthly distribution date. What makes it different from other organizations is that some require paperwork," said Holt. "At ours, we don't ask any questions. People can just get what they need and then leave. But the work is very similar on the surface level, we're providing to those in need."
Feed The People also works with other organizations in Lincoln, and not just in food distribution. Whether it's a legal problem, housing problem, delivery problem or otherwise, Feed The People can either redirect people or provide services themselves.
"I'm assuming at this point that there's not much of an end in sight for the shutdown. I really don't know when it's going to end. So we're definitely anticipating more people coming in," said Holt. "We've been trying to promote specifically to government workers who are out of a position, without money, and wouldn't normally think about coming to an organization like ours. We just want them to feel like they have support during something like this."
Holt hopes people take advantage of resources like this. Feed The People is one of many places in Lincoln offering benefits to workers currently furloughed by the shutdown. Holt wants people to know that food is food, and we all need it.
"I think that it's important in times like this to really try to connect with the community we have around us," said Holt. "We see who offers support when the government may not. I don't think at this point we can count on a consistent, permanent, source of help from the government."
For more information on Feed The People, visit their facebook page.
For live updates on the government shutdown, visit:
Longest Government Shutdown: CNN
About the Writer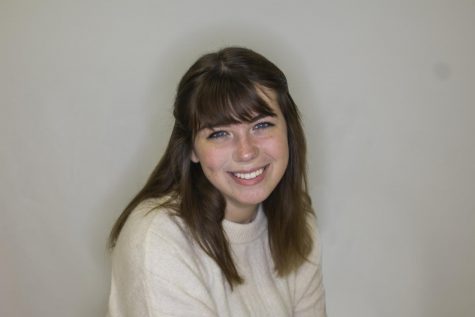 Syann Engelhard, Co-Editor-In-Chief
Syann Engelhard is a Senior at Lincoln Southeast High School. She currently holds the position of Co-Editor-In-Chief and Graphic Artist. Outside of newspaper,...