Despite a year like no other, LSE Football and its community stays resilient
After an unexpected end to the 2019-2020 school year, no one knew how returning to school in the fall would look, or if students would even get to come back at all. At Lincoln Southeast (LSE), athletics and other extracurriculars play a big role in the community. With many new policies and a district wide half-capacity plan, students and parents weren't sure if athletics would happen this year. One of the most anticipated and loved fall sports, Southeast Football attracts fans of all ages to the stands, as well as over 100 people involved in the football program. 
With so much of the LSE community involved, and an impressive previous season, there was high energy on the team and throughout the school last year. Unfortunately, due to COVID-19, student sections are no longer allowed. This made for yet another unanticipated change to the usual packed, high energy, Friday night games students know and love. However, this didn't stop the LSE Football team and its community from showing up.
Although COVID-19 changed drills and cleaning routines, as well as closing the student section at games, not everything for LSE Football has changed. The drive from the team, and support from the fans stays as strong as ever. With no student section, the energy has changed at Seacrest, but the families, coaches and peers are still there.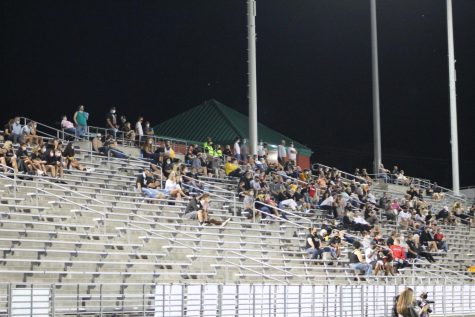 Football Co-Captains, Jake Appleget (11), Barrett France (12), Derek Branch (12), and McGinness Schneider (12), agree that the Southeast community is doing all they can to be there for the team. 
"It's cool to still see that even though they're not there in person they're still supporting us and the program," Branch said. 
With local news station KLKN-TV broadcasting LPS games, fans are able to watch the games from home and cheer them on. 
"I still feel the support from the Southeast community," France said. 
Although Seacrest Field isn't the same this year, the game hasn't changed for the team.  "Every game is treated like a game no matter who's there," Appleget said.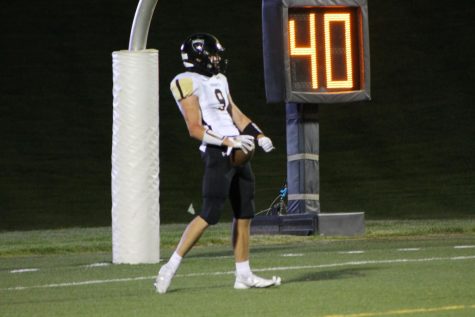 Despite the changes to the season, the team knows they need to stay motivated, and their dedication shows on and off the field. 
"There's always gonna be things you can't control but as long as you go 100% it doesn't matter," France said. 
At the game against Southwest, the team had each other's backs, and made sure to keep their energy up, and mindsets positive. With a year full of change, according to Appleget, one thing stays the same. "We still have the same goals, same intensity, and game plans."
Looking back, the 2019-2020 football season was one to remember. Going into state playoffs, The Knights led an undefeated season. However, after a tough game, the Knights fell to the Westside Warriors, and their exceptional season was cut short. Going into this season, the Knights had high hopes for the team and their performance on the field. The game against rival Southwest was the second game of the new season, and the anticipation was high. The Knights did not disappoint, and secured a 35-5 win. The first and last touchdowns of the game were successful passes from Schneider to Branch and Appleget, respectively. The captains led their team to a victory, and the seniors on the team were glad to beat the Hawks one last time.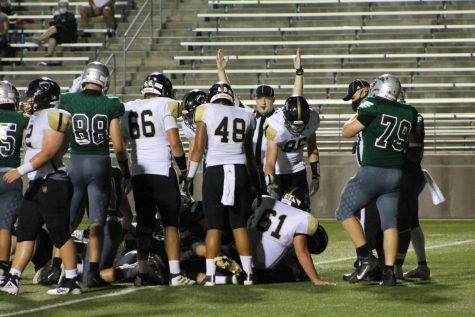 Many seniors on the football team this year know the value of every game, and don't take a moment for granted. 
"We value our time together and know that any game could be our last. We're all excited to get the opportunity to play football. You don't want to leave the field with any regrets," Branch said.
For many seniors, and the captains, Schneider says football has been "a great opportunity to hang out with your friends, build relationships and just compete. Football has taught me lessons about dedication and hard work, and that it takes a lot of preparation to accomplish a goal."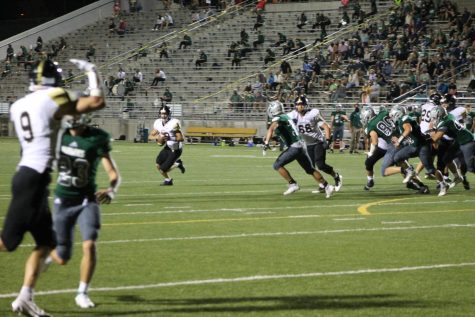 This year's captains have a challenge that is new to everyone on the team, but they don't let it hold them back. 
"Southeast has always been that team to not get down and believe there are 4 quarters in a game, not just two, it doesn't matter what the score is at halftime," Appleget said. This season, it was more important than ever to be persistent. LSE Football and it's community continues to rally around each other and prove that you can stay strong despite the circumstances, and thrive in spite of them.
About the Writers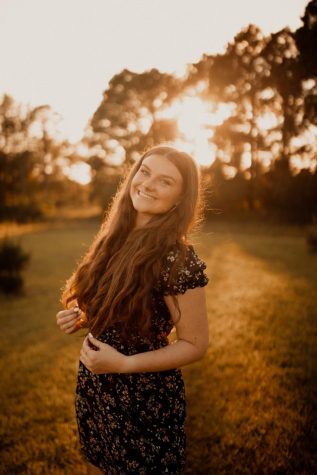 Emily Stoner, Photo Editor
Emily Stoner is a senior at Lincoln Southeast. She is involved in Student Council, HOSA, Peer Mediation and more. Emily plans to study a social science...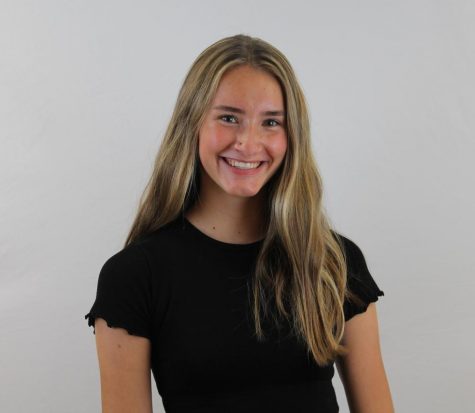 Meg Rajala, Photo Editor
Meg Rajala is a Senior at Lincoln Southeast High School, and this is her first year on the Clarion staff. She is also involved in Student Council, Younglife,...