LSE English teacher and Speech Coach awarded title of Best English Teacher in Nebraska 2022-2023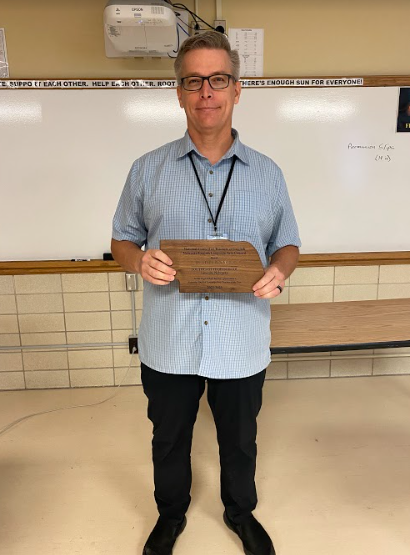 In late September, LSE teacher Tommy Bender was awarded as the NELAC Nebraska English Teacher of the Year by the Nebraska English Language Arts Council. As a result, he will also be recognized as a High School Teacher of Excellence by the NCTE (National Council of Teachers of English) during the annual convention in November.
"I was incredibly surprised about it," Bender said. "I was honored." 
Bender has been teaching for 29 years and 21 of those years have been at LSE. Currently, he teaches Oral Communications and Holocaust Literature. 
"I have taught some version of Oral Comm. pretty much my entire career, and I've always enjoyed the speaking aspects and getting people to learn how to communicate and communicate well. I really like when I can feel like I make a difference," Bender said. 
In addition to teaching at LSE, he has also had experience coaching the speech team and being the theater director. Bender's teaching and communication skills have led the LSE speech team to great success throughout the years. As a result, he has been awarded Nebraska South Speech Coach of the Year on seven different occasions.
"Bender has been a teacher I've really admired all throughout high school," said LSE senior and member of the speech team, Isabella Lecher.  "He dedicates incredible time and effort as a speech coach and English teacher. He really cares for his students and I feel like I can talk to him about anything. He is an incredible teacher and coach, and I truly appreciate all he has done for me."
Despite Bender's success as an English teacher, he didn't discover his passion for teaching until later in his education journey. During his early high school career, he envisioned having an occupation involving engineering or mechanics. 
"I like fixing things and working with my hands," Bender said. 
His aspirations to become a teacher came during his junior or senior year when he joined his school's speech team. At one point in his teaching career, he got the opportunity to combine his teaching and engineering passions when he got involved in the car club at LSE. Over the span of two years, Bender and a student battling cancer partnered up to rebuild a car, raffle it off and create a scholarship in the student's name. 
"I bought this pair of old Mustangs off eBay and went and got them and we spent one year just getting them running and then the next year we had all kinds of volunteers and stuff like that," Bender said. As a result of that project, he received the 2010 LPS Thank You Teacher Contest. 
Despite all of his recognition, Bender still has a humble perspective, "It doesn't change what I do necessarily in class. It doesn't really change how I interact with people," Bender said. "I'm just really appreciative of all the people that I've got the chance to work with. I have a lot of great colleagues both here in the building and also in LPS and throughout the state."
Bender also expressed his gratitude for his family and their support.  
"I'm very appreciative of my family. Because coaching speech takes a lot of time, and yet we always just find a way to make it work." Bender said. 
Overall, Bender's work as a teacher has had a significant impact on LSE and its students. 
He aims to encourage his students to get involved, figure out what they like to do and talk with those around them because communication is crucial.